Back To Blog
Just like all modern appliances, garage door openers are constantly evolving. In this way, they become safer, secure and more efficient in their operation. When you plan to get a new unit, you should certainly consider the most recent innovations.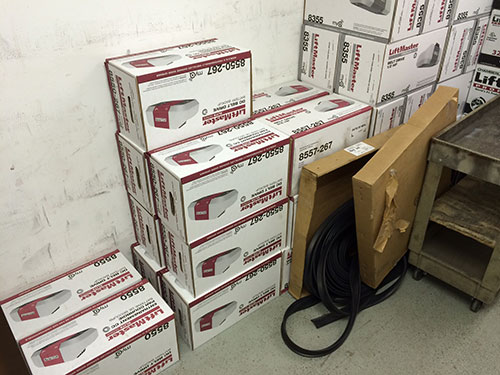 Major Improvements in Every Respect
The rolling code technology is not new, but it is becoming more and more widespread. This is a super positive trend, since the technology works to increase the level of security of the door, the garage, and the entire house. Its job is to change the access code automatically after each use of the garage motor remote. In this way, the risk of a potential intruder learning or guessing the code is virtually eliminated.
Many of the latest electric operators have a dual frequency system which prevents signal interference. This eliminates the risk of your neighbor accidently opening your door while operating theirs. This smart solution works to improve security and convenience considerably.
Another fascinating innovative technology is the automatic shut-off system. It works to monitor the operation of the door and the opener and to shut off the device automatically in case of a serious issue with the hardware. In case of broken garage door spring, for instance, the device stops working automatically as the weight of the door may cause damage to it. This protective mechanism is a great way to preserve the unit in top condition for longer.
The most advanced of all technologies used in modern-day openers is the remote operation via a smartphone. These devices have software which syncs with an app on the phone. In this way, you will receive automatic alerts if you have left the overhead door open. More importantly, be able open and close it remotely from any place. You do not have to be within the range of the receiver.
Finally, while the chain drive, screw drive and belt drive garage door openers remain the most popular options, the new direct drive models are gaining greater market share. These devices have a stationary chain and the motor unit itself moves along it to open and close the door. The result is super quiet operation.